College of Alameda Virtual Commencement 2021
Friday, May 28, 2021 at 3:00 p.m.
Class of 2021 President's Medallion Recipient, Valedictorian & Salutatorian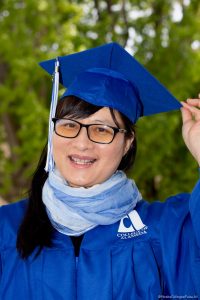 Hongying Angel Huang, President's Medallion Recipient
I am Hongying (Angel) Huang and I have been studying at College of Alameda since August 2018. I am a mother of two. In June 2017, my family and I immigrated to the United States from China. Before migrating, I was a writer in Chinese and an editor for a Chinese magazine. Before coming to the U.S. I rarely used English in my daily work and life. My English was very poor as a new immigrant to the United States.
Since entering College of Alameda and after three years of hard study, my English level has greatly improved. In November 2020, I applied for transfer with a 4.0 GPA. In April 2021, I received transfer offers from four universities in California. I have accepted the offer from UC Santa Cruz as the four-year undergraduate university where I will continue my academic career in the fall of 2021.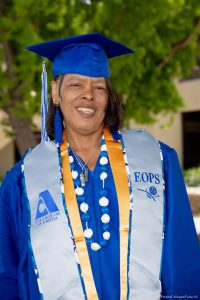 Donna Hooper, Valedictorian
My name is Donna Jean Hooper. I am honored to be Valedictorian for the COA class of 2021. I graduated from Castlemont High School in 1979. I have over 40 years of experience in the fast-food sector, from cashier to manager.
My life took a turn in 1996, when I became addicted to drugs and alcohol.  This time in my life was the darkest place I had ever been. I did not see any way out until January 19, 2012, when I entered the Epiphany House for Women and Children in S.F. This was the beginning of the new me.
I am now celebrating nine years of sobriety. I attend ReGenesis Christian Center in Oakland Ca. I surrendered my life over to God and I give him all the glory and praise for my success. I am now successfully fulfilling my lifelong dream to further my education.
I am a recent graduate of COA with a double AA degree in Sociology and Social and Behavioral Science. I am also completing my pursuit of my third AA degree in African American Studies, to be awarded in May 2021. My greatest accomplishment was successfully completing the program at Epiphany House for Women and Children. My goal is to give back to the community, inspire and give hope to those who are suffering from the social pandemic of addiction.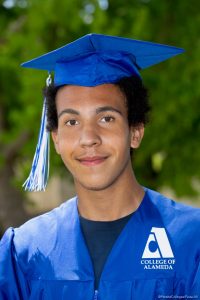 Benjamin Wilson-Ripsom, Salutatorian
Hello fellow 2021 College of Alameda graduates, my name is Benjamin Wilson-Ripsom. I'm 16 years old and I've been a concurrently enrolled student at both Encinal High School and COA for the past two years.
A few interesting things about me are that before the beginning of the pandemic, I was very engaged in both track and cross country running, as well as our school's business related club, DECA.
In the Fall, I will be returning to in-person high school for my final year as a senior. I had the option to graduate high school early, but I really enjoy spending time with my friends and community. I will be working to transfer the year after this one. I was motivated to join our concurrent enrollment program by a counselor who said I couldn't do it. I really wanted to prove them wrong, and I think I was able to do so.
As I am still 16, I am unsure of where I want to go career wise, however, I'm leaning towards something in the field of psychology or political science. I'm very excited and honored to be this year's salutatorian, and I'm incredibly proud of how far we have come as a community! Congratulations graduating class of 2021!
Information Regarding Honors
HONORS AT GRADUATION
Associate Degree candidates with the following cumulative grade point averages at the end of the Fall 2020 semester will be recognized at graduation as follows:
3.25 – 3.49                        With Honors
3.50 – 3.74                        With High Honors
3.75 – 4.00                        With Highest Honors
Please be reminded that this is a cumulative grade point average reflecting ALL COLLEGE WORK through Fall 2021. This includes college work completed both at Peralta and other colleges. Again, Certificate recipients are not eligible for honors.
For those students graduating with Associate Degrees in June 2021, your cumulative GPA will be recalculated once grades from Spring 2021 semester are finalized. If at that time you qualify for honors, your transcript will be appropriately noted.
VALEDICTORIAN & SALUTATORIAN
Each year a class valedictorian and salutatorian are chosen from the candidates for the Associate Degree. Certificate candidates are not eligible.
The class valedictorian is the student in the graduating class with the highest cumulative grade point average at the end of the Fall 2021 semester. This individual will be asked to deliver a speech to the graduating class.
The class salutatorian is the student in the graduating class with the second highest cumulative grade point average at the end of the Fall 2021 semester. This individual will be asked to lead the class in the moving of the cap tassel at the end of the ceremony.
Additional Graduation Celebrations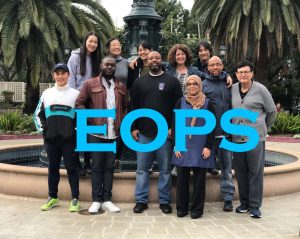 EOPS/Care/CalWORKs/Next Up Graduates & Transfer Scholars:
Your fam at EOPS/Care/CalWORKs/Next up invite you and your loved ones to the 2021 Virtual Celebration for EOPS/Care/CalWORKs/Next Up Graduates & Transfers! Our program will feature student speakers, a slideshow with your beautiful faces and degrees/certificates/transfers, and an opportunity to celebrate with your loved ones 🙂
When: Wednesday, May 26 from 5pm-6pm
Where: on Zoom
How to Attend in 3 Steps: 
Register on Zoom:  https://zoom.us/meeting/register/tJIudOqrpjssGtLI3s0-djHL0KDrsiM2v3ed
Fill out this form to customize your slide (this is also included in the Zoom confirmation email) https://tinyurl.com/4m98xbwa
Email a lovely photo of yourself to me, Marissa at MNakano@peralta.edu (photo guideline: if the pic would make your grandmother or your community faith leader blush, use a different pic!)
To be included on the slideshow of 2021 Grads & Transfers, you must complete the steps above steps by 8pm Pacific Time Tuesday, May 18 at 8:00PM!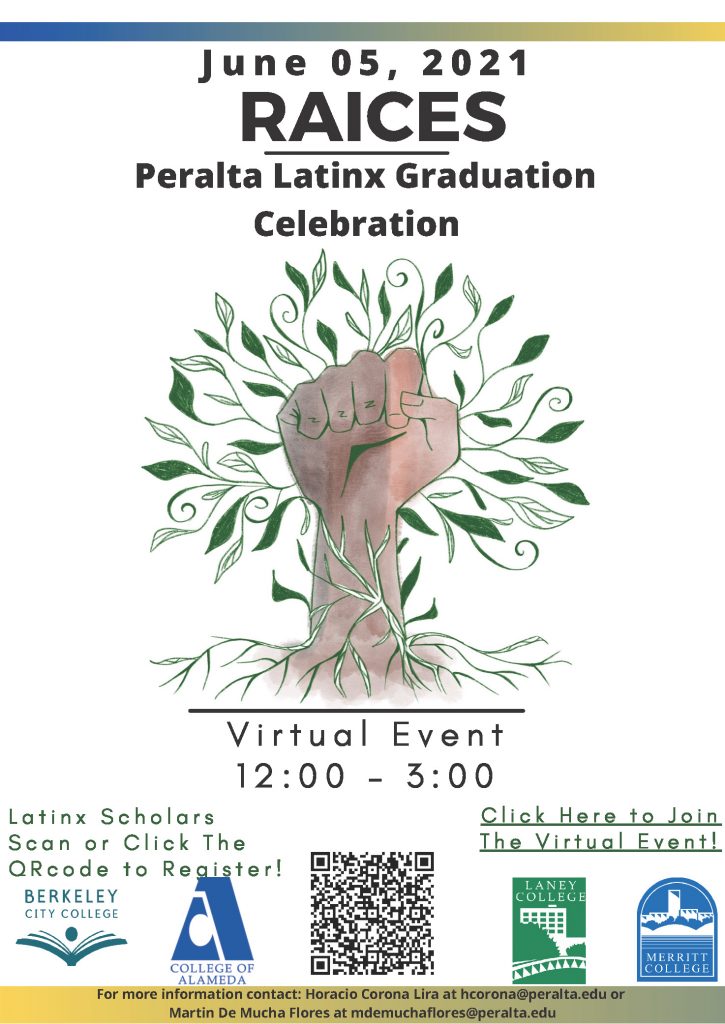 Estimado Peralta Latinx, Latina y Latino Graduate,
Felicidades-Congratulations!    You set a goal, made a plan and worked the plan to reach you goal.   During a time in our collective experience when COVID 19 pandemic has dispraportionally impacted the Latina, Latinx and Latino community in the Bay Area.  You found the Ganas and resilience to reach this important milestone.  You did it!  We did it! Conjuntos!
Your success and continued momentum forward is important to your familia and the communidad.   Let's Celebrate!
Join us to celebrate you and your family at the first annual Peralta Community College District:
Raíces Peralta Latinx Graduation Celebration 
June 5, 2021
12:00 p.m. – 3:00 p.m.
12:00 – 1:00 Live DJ
1:00 – 3:00 Graduation Celebration Program
A Virtual Zoom Event
This will be a virtual event with celebratory messages from the California Community College Chancellor, Peralta Board Trustee, College Presidents and student speakers.   We will also be running a slide show to honor you.
To participate please use the flyer and click or scan the QRcode.  You can also click HERE to register.  Please complete the registration form by May 28, 2021.  There is no cost to participate and will be free to view using the zoom link in the flyer.
The registration form will ask you to provide general information about yourself, share a Dicho (family saying), and a picture of yourself with your familia or friends.  We will use these items to create your slide for the slide show.
If you have any questions please contact Horacio Corona Lira at hcorona@peralta.edu or Martin De Mucha Flores at mdemuchaflores@peralta.edu.
Keep an eye on your email because we will send updates as we get closet to the event. We know you all are busy wrapping up final, and we know you will do your best.
On behalf of the Raices planning committee, we look forward to seeing you on June 5, 2021 to celebrate, connect and build.
Please share this email to your friends at Berkeley City College, College of Alameda, Laney College and Merritt College.  Lets show up and show out for each other.
Martín De Mucha Flores
Co-Chair Raices Planning Committee
Horacio Corona Lira
Co-Chair Raices Planning Committee.
Sí Se Puede!
Frequently Asked Questions
How can I participate in the virtual commencement? 
Please schedule an appointment with our counselors to petition for graduation. You can schedule a Zoom appointment online on this page: https://alameda.peralta.edu/student-service/counseling/
Petition for Certificate of Achievement/Completion
Register HERE for the Virtual Commencement
Deadline for Graduate Submissions is Monday, May 10th
When is the deadline to submit my petition to a counselor?
The last day to submit your petition to participate in graduation/ commencement activities is Friday, March 12th. After this date you can still submit your Degree/ Certificate petition, but it is not guaranteed that you will be included in graduation/ commencement activities.
How exactly will a virtual commencement work?
A link will be e-mailed to you where you will be able to upload a photo of yourself and a message. More information will be provided.
Will I be able to purchase a cap and gown?
Yes, you may be able to purchase a cap and gown through our bookstore at https://www.bkstr.com/alamedastore/shop/graduation. Direct all questions related to regalia to the Bookstore.
When will I be able to receive my diploma? 
You will be able to receive your diploma during the Fall 2021 semester depending on the shelter-in-place order.
If you have any additional questions, please contact Natalie Rodriguez at nrodriguez@peralta.edu