Online Student Attendance
Examples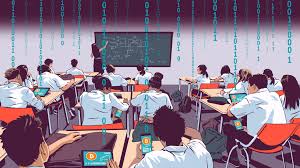 Faculty often wonder what defines "attendance" in an online class, especially in relation to reporting on census or attendance verification rosters. The Federal Student Aid Handbook outlines online attendance for higher education institutions.
An excerpt from pages 5-65 and 5-66 of Volume 5, Chapter 2 of the 2020-2021 Federal Student Aid Handbook appears below and provides suggested parameters. Be sure to visit the Federal Student Aid Handbook website linked above for the most recent year and edition.
Documenting Attendance in Distance Education Courses
"In a distance education context, documenting that a student has logged into an online class is not sufficient, by itself, to demonstrate academic attendance by the student. A school must demonstrate that a student participated in class or was otherwise engaged in an academically related activity.
Examples of acceptable evidence of academic attendance and attendance at an academically related activity in a distance education program include:
student submission of an academic assignment,
student submission of an exam,
documented student participation in an interactive tutorial or computer-assisted instruction,
a posting by the student showing the student's participation in an online study group that is assigned by the institution,
a posting by the student in a discussion forum showing the student's participation in an online discussion about academic matters, and
an email from the student or other documentation showing that the student initiated contact with a faculty member to ask a question about the academic subject studied in the course."
Some examples might include a:

syllabus quiz or other course related assessment
student bio or introduction discussion forum
short written assignment where students submit a few sentences of written text, a video, etc. about their goals, what they want to learn in the class, fears, etc.
Have other examples to share? Email your Distance Education Coordinator Jennifer Fowler at jfowler@peralta.edu to add it to this page!
Canvas 24×7 Phone Support: (844) 592-2199
canvas@peralta.edu
helpdesk@peralta.edu