Aviation Maintenance Technology (AMT)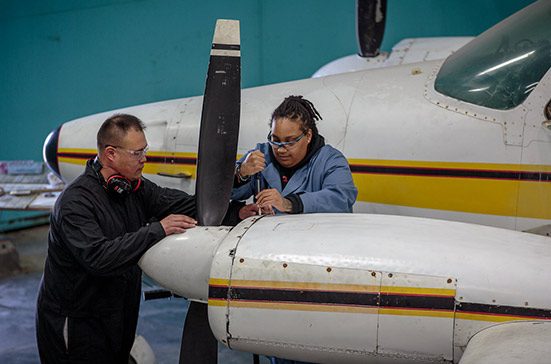 about Aviation Maintenance Technology (AMT)
The Aviation Maintenance Technology (AMT) Program is an intensive evening program that you can complete while working during the day. Classes are scheduled in nine-week blocks, five days a week from 4:30 p.m .to 10:30 p.m. (holidays excluded). The coursework can be completed in two years as a full-time student, or you can attend part-time and take courses as your personal schedule allows.
You will learn how to inspect and maintain aircraft to ensure that the plane will fly safely.
You will learn theory and practical experience in constructing aircraft.
You will gain hands-on experience and develop the skills needed to repair aircraft.
What can I do with a degree in Aviation Maintenance
You will be eligible to sit for the Federal Aviation Administration (FAA) licensing exams. Passing the coursework and the appropriate exams will qualify you for an Airframe and Powerplant Mechanic License as well as a General Radiotelephone License.
Career options include:
Aviation Mechanic or Technician Aircraft Engineer
Working in the aerospace field perhaps on satellites
Working in aviation-related fields on aircraft parts and services, aircraft development
Working in other industries maintaining and preparing cars, trucks, elevators, and light rails such as BARTAdditionally, students may also continue their studies in Aviation Maintenance Technology and transfer to a 4-year college or university. All credits earned in the AMT program at College of Alameda are transferable to San Jose State University and Embry-Riddle Aeronautical University.
Esther Cheng, Aviation Maintenance Technology Sr. Supervisor
Hoi Ko, Faculty, Aviation Maintenance Technology and Aviation Operations