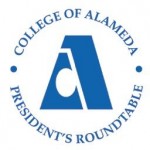 We are thrilled to have a dedicated group of community leaders stepping up to serve on the College of Alameda's inaugural President's Roundtable. This is an exciting time for the College as together we can embrace the mission of this academically excellent institution and re-envision its future. This prestigious group of key individuals from local business, industry, government, education, and the philanthropic sector acts as the College's strategic advisors as we expand our role as the community's premier academic path to higher education. In this capacity, Roundtable members play an important role in helping to shape the direction of the College and, ultimately, in the success of our students.
How You Can Help Us
By participating in the Roundtable, you provide a strong base of expertise, important community connections, and support in terms of:
Expansive strategic thinking about cutting-edge programs at COA;
Community input vital to shaping COA's future direction and offerings;
Introductions to talented and influential leaders;
Assistance with resource development.
How We Can Help You
We can connect you with the best and brightest in and out of our educational circles, including:
 A meaningful relationship with COA, one of the Island's largest and most influential institutions;
A strong connection with the top leaders of the College and of the Peralta District;
Networking events with top business leaders from a variety of venues;
The opportunity to create a lasting and significant impact in the life of a COA student.
Would you like to join us in making a difference in our community? Please contact us today.