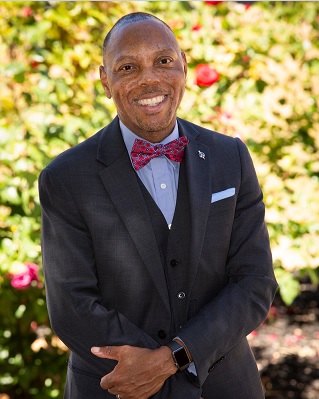 President's Bio – Nathaniel Jones III, Ph.D., MBA
In both his personal and professional life, Dr. Nathaniel Jones III has sought to work and be engaged in activities that benefit the lives of people. His professional career has spanned more than 29 years of which the past sixteen years have been spent working in higher education involved in administration, teaching, research, and consulting. Dr. Jones was the Vice President, Business Services at Moreno Valley College of the Riverside Community College District, before becoming the President of the College of Alameda in December 2020. He has held administrative and faculty positions at public and private higher education institutions including: University of California, Riverside, Pepperdine University, Dartmouth College, Northern Arizona University, and the University of Maryland.
Prior to coming to the academy, Dr. Jones worked as a hospital administrator for thirteen years. He has also worked as a management and business consultant for Jones Consulting Incorporated. Dr. Jones has extensive experience in the areas of: financial management, strategic planning, assessment, data-informed decision making, community engagement, program review and evaluation, and economic development. Dr. Jones has also researched and published in the aeras of health and education policy. He earned a Ph.D. in Health Policy in 2002 from the University of Maryland after completing a Master's degree in Business Administration and a Bachelor of Science degree in Mechanical Engineering. Dr. Jones is a thoughtful and creative leader who enjoys spending time with family, playing tennis, and teaching Sunday-school to fourth graders.
President's Cabinet
The Cabinet, upon approval of recommendations submitted by the College Council to the President, implements all policy decisions. The President's Cabinet and the College Council are the two major college committees that adhere to AB1725's directive regarding faculty, staff and students being involved in the shared governance process.
Meeting Time: 4th Wednesday 9:00am
President's Roundtable
We are thrilled to have a dedicated group of community leaders stepping up to serve on the College of Alameda's inaugural President's Roundtable. This is an exciting time for the College as together we can embrace the mission of this academically excellent institution and re-envision its future.
This prestigious group of key individuals from local business, industry, government, education, and the philanthropic sector acts as the College's strategic advisors as we expand our role as the community's premier academic path to higher education. In this capacity, Roundtable members play an important role in helping to shape the direction of the College and, ultimately, in the success of our students.
How You Can Help Us
By participating in the Roundtable, you provide a strong base of expertise, important community connections, and support in terms of:
Expansive strategic thinking about cutting-edge programs at COA;
Community input vital to shaping COA's future direction and offerings;
Introductions to talented and influential leaders;
Assistance with resource development.
We can connect you with the best and brightest in and out of our educational circles, including:
A meaningful relationship with COA, one of the Island's largest and most influential institutions;
A strong connection with the top leaders of the College and of the Peralta District;
Networking events with top business leaders from a variety of venues;
The opportunity to create a lasting and significant impact in the life of a COA student.
Would you like to join us in making a difference in our community? Please contact us today.
College of Alameda Splash Newsletters
President's Office Staff & Organizational Chart
Nathaniel Jones III, College President
Vacant, Executive Assistant, Office of the President
Shane Williams, Web Content Developer, Office of the President
Chungwai Chum, Staff Services Specialist, Office of the President