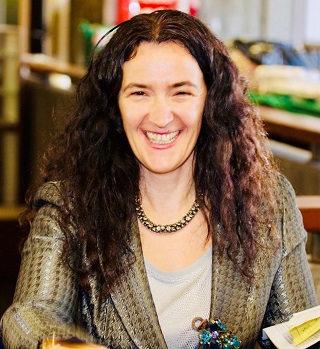 President's Bio – Dr. Diana Bajrami
Dr. Bajrami has been a member of the Peralta family since 2001 in various faculty, shared governance leadership, and administrative roles ranging from full-time Economics faculty to Interim Vice President of Student Services at Berkeley City College, to her current position as Vice President of Instruction at COA.  She is an experienced educator and leader who has spent nearly thirty years working to ensure high quality instruction and equitable student success at both two-year and four-year colleges in the United States and abroad.  Diana is also a proven leader in the development and assessment of measurable student learning outcomes in both student and academic services, and has extensive experience in program review, accreditation, organizational management, fiscal stewardship, grant writing, enrollment management, evaluation, and professional development. 
She has been intricately involved in College of Alameda activities such as the co-chair of the College Council, the inaugural Coordinator of the Institutional Effectiveness Committee and was recognized by the college community and the ACCJC team for her outstanding work on continuous quality improvement.  She has also served as a co-chair on the Distance Education and the Professional Development Committees and was the lead trainer in transitioning colleagues to an online teaching & learning platform.  She has also been a member of the campus Facilities and Student Success Committee and has been involved in the district-wide taskforce to establish program review.  Diana was the co-chair of the campus Budget Committee for several years, and in that role she was recognized for her quantitative and analytical skills in ensuring effective and transparent budgeting practices and processes.
Diana is an educational leader with an uncompromising commitment to educational leadership, student success, and educational equity.  She has been recognized several times as the Faculty of the Year at College of Alameda for her demonstrable role in fostering educational excellence.
President's Cabinet
The Cabinet, upon approval of recommendations submitted by the College Council to the President, implements all policy decisions. The President's Cabinet and the College Council are the two major college committees that adhere to AB1725's directive regarding faculty, staff and students being involved in the shared governance process.
Meeting Time: 4th Wednesday 9:00am
President's Roundtable
We are thrilled to have a dedicated group of community leaders stepping up to serve on the College of Alameda's inaugural President's Roundtable. This is an exciting time for the College as together we can embrace the mission of this academically excellent institution and re-envision its future.
This prestigious group of key individuals from local business, industry, government, education, and the philanthropic sector acts as the College's strategic advisors as we expand our role as the community's premier academic path to higher education. In this capacity, Roundtable members play an important role in helping to shape the direction of the College and, ultimately, in the success of our students.
How You Can Help Us
By participating in the Roundtable, you provide a strong base of expertise, important community connections, and support in terms of:
Expansive strategic thinking about cutting-edge programs at COA;
Community input vital to shaping COA's future direction and offerings;
Introductions to talented and influential leaders;
Assistance with resource development.
We can connect you with the best and brightest in and out of our educational circles, including:
A meaningful relationship with COA, one of the Island's largest and most influential institutions;
A strong connection with the top leaders of the College and of the Peralta District;
Networking events with top business leaders from a variety of venues;
The opportunity to create a lasting and significant impact in the life of a COA student.
Would you like to join us in making a difference in our community? Please contact us today.
Diana Bajrami, Acting College President
Vacant, Executive Assistant, Office of the President
Shane Williams, Web Content Developer, Office of the President
Chungwai Chum, Staff Services Specialist, Office of the President